Hello, hello folks! I can't believe again that it's Wednesday already! I'm not complaining though.. I love Wednesdays as not only do I get to post my awesome eats ;) with no explanation, I also get to look at what everyone else's been eating! Let's face it- we're all sticky beaks :)
Linking up with Peas and Crayons!
I've included bits of yesterday and today as I started back at school yesterday and didn't manage to find the time to get a post up yesterday!
Breakfast:
First day back to school was:

The granola was muesli mixed with cashew butter and milk which was first heated in the microwave before being rubbed into the muesli. Then it was baked in a 180 degrees celsius oven for around 15 mins until golden.
Yesterdays lunch was a simple, boring salad with a simple boring lemon dressing... so no photo :)
Today's lunch was another old-time fav:
grilled veggie sandwich!
Snacks:
Fruit. Lot's of fruit:
pesto
, steamed veggies (pumpkin, sweet potato and parsnip),baked mushrooms and eggplant and some sauteed Quorn mince.
So there you go, 2 days of eats featuring a lot of old loves and all-time favourites! Don't forget to check out what
everyone else has been up to on the food front!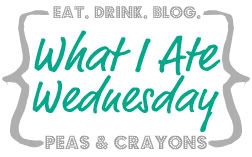 Ciao! :D